Having a clutter-free life is essential. Many people turn to the minimalist lifestyle for its simplicity and practicality. However, as you accumulate more and more keys for your homes, offices, and cars, keeping them organized can become a real challenge. This is where minimalist keyholders rescue you, helping you maintain a clutter-free life.
In this brief guide, we'll explore the concept of minimalism and how it can improve your life. Our team has checked each product carefully, considering what they can do, their technical details, and how much they cost.

Here are some great products perfect for a minimalist lifestyle you should check out:
The Best Keyholders for Minimalists
Best Overall Key Holder:


KeySmart Original
KeySmart Original is made from high-quality materials, guaranteeing a perfect balance of durability, functionality, and compactness. It's like a Swiss Army Knife that organizes keys and tools. The consumer experience can be enhanced by adding accessories such as knives, bottle openers, and LED lights. It combines style and practicality at a fair price. Among the extra features is a space to attach tools and screws to maximize the number of keys to 16. It's one of the best key holders ever and ideal for everyone — from office life to outdoor adventures.  And the best part: this key holder has a versatile design that allows you to set up the items without any equipment.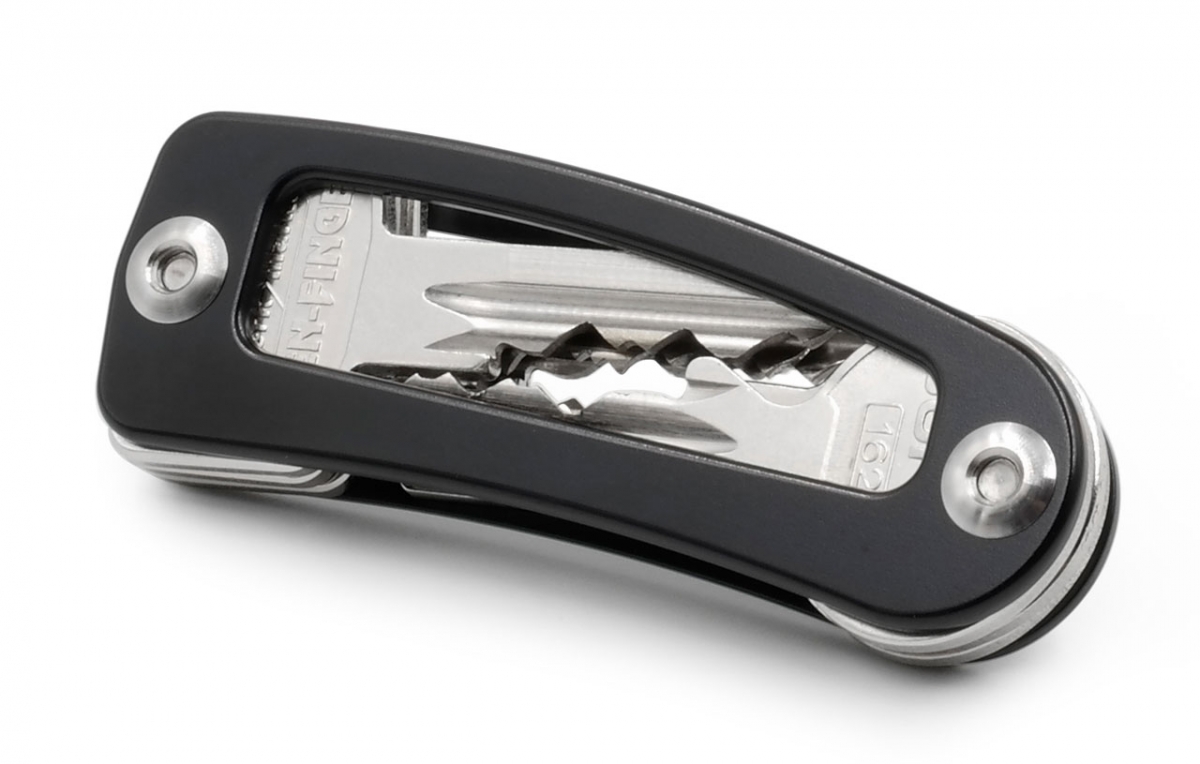 Most LightWeight:


Carbocage Keycage
Carbocage Keycage is a German-engineered marvel that combines elegance and practicality to revolutionize how you organize your keys. Crafted with precision using CNC machining, this carbon fiber key holder delivers durability and lightweight efficiency. The product comes with stainless steel bolts, reinforced fiberglass, Teflon spacers, and an Allen key for assembly – the requirement of an Allen key for setup indicates a lower level of convenience compared to other alternatives. After all, it's an excellent product that is well-reviewed by its customers.
Most Premium Leather:
ORBITKEY KEY ORGANIZER
Orbitkey Key Organizer Leather is a good solution for people who care about style and may look for premium solutions. Crafted from natural leather, this product is designed to withstand the test of time while maintaining its natural character. Its protective finish provides added strength without compromising aesthetics. Leather also comes with a 24-month warranty, making it a reliable choice for those who value quality and style in their everyday carry.
Most Compact:


KeySmart Mini
Compact and functional, the KeySmart Mini is both stylish and practical. It's built to make your daily life easier by securely holding up to 5 keys and your car key fob. It's built to last with matte stainless steel hardware and a durable thermoplastic polyurethane band. There is a 2-year warranty included. 
This versatile product is suitable for everyone, regardless of age or gender, and the leather version not only offers excellent functionality but also boasts outstanding aesthetic appeal. KeySmart Mini is the perfect gift for any occasion and will make someone feel truly special. Say goodbye to noisy and bulky keychains and embrace a more organized and refined way to carry your keys.
Best by Features:


Ridge Key Case
The Ridge Key Case discreetly stores up to 6 keys, eliminating jingles and ensuring swift access as needed. This keyholder's design is elegant, comprising two halves of machined aluminum joined by a flexible rubberized connector. Adjusting tightness and key capacity is effortless with a screw, while the included clip ensures secure positioning within a pocket or bag. Available in a variety of stylish finishes, it also has a lot of cool features. The possibility of attaching an Airtag and a bottle opener, for example.
Best by Premium:


Orbitkey Key Organizer
Available in different colors, the Orbitkey Key Organizer is made from natural leather that can withstand the test of time. Its protective finish provides added strength without compromising its natural character. The Orbitkey's product has an expandable design that allows easy customization, adjusting the capacity for a clutter-free pocket. Additional features include a 24-month warranty and the capacity to attach a car fob.
Best by Safety:


Garzini Key Holder
The Garzini Key Holder offers a clever and stylish way to carry your keys while preventing them from scratching your belongings. Crafted with premium materials, it's the perfect accessory to keep your keys organized while adding a touch of style to your daily life. This keyholder is available in a wide range of colors. The consumers can also choose between Brushed Leather and Vintage Leather models. It's a practical and fashionable choice for keeping your keys in check.
Best All-in-One:


Keyport Pivot 2.0
The Keyport Pivot 2.0 allows you to fully customize your key organizer, offering great flexibility. You can add components like a flashlight, multi-tool, or knife to tailor it to your specific needs. This key organizer is an excellent choice for those who prefer a simple and minimalist lifestyle.
It's crafted from lightweight aluminum, making it ideal for everyday use. What's more, the manufacturer provides a valuable service called the "KeyportID Lost & Found Service." This service involves imprinting a unique serial number onto the key holder chassis. If someone finds the keyholder, they can easily contact the owner. Plus, when you purchase a Pivot, you'll receive a free 2-year subscription to this service, enhancing the overall appeal of the product.
FAQ about the best key holders for minimalist lifestyle
What is the best way to carry multiple keys?
The best way to carry multiple keys efficiently is by using a key holder. They are designed to keep your keys organized, prevent jingling, and protect your belongings from scratches, making them a convenient solution. There is no better minimalist solution for this than KeySmart Mini.
What is the best minimalist EDC key?
KeySmart Original is the top choice for a minimalist everyday carry (EDC) key solution because it offers a sleek and customizable design. Its compact structure eliminates bulky keychains, and you can easily tailor it to your specific key-carrying needs without using any tool. Consumers also recommend the product on social platforms and in specialized reviews. It's also lightweight and durable, making it the perfect choice for any EDC kit. Additionally, this option is affordable and widely available.
How do I make sure I don't lose my keys?
To prevent losing your keys, use a reliable key organizer. Designate a specific place for your keys at home and in your bag or pocket. Consider using a key holder with a Bluetooth key finder for tracking, such as KeySmart Max. The KeySmart iPro is another alternative that works with Apple Find My system.
About the author